If your company has the Employee Experience add-on available, employees can visit the store to browse and request products. For additional information on how the store operates, you can find more details here.
This article includes the following topics:
How to place an order request
Click on Store in the navigation bar. Here you will find all products available for your company.


You can search for the product name in the search field or you can filter your search in the menu. The view of the store can look different depending on which partner your company is using.




In the My budgets section, you'll find categories of products included in your assigned budget. If you wish to explore products outside your budget, you can click on Categories to view all available categories and products in your company's store.


To see more information about a product you simply click on the product and you will see a new view with product information and the available variants of that product.




You Choose configuration of the product such as color and storage capacity. If you have a budget assigned to you and the price is within your budget there will be no additional costs for you, if it exceeds your budget you either pay the exceeded amount with credit card or it will be added as salary deduction, depending on your company's setting.


When you are satisfied with your choices you Add product to cart and you can either continue your shopping for related products or go directly to your cart that you find in the top right corner in the navigation bar. When you are done adding the products you want in your cart you Proceed to checkout.


In checkout you are able to look through your request and the products added with the possibility to see a full price calculation. If you may have questions about your assigned budget, talk to the one that is admin for Velory at your company.




You will have the opportunity to choose where the products will be delivered. The options available to you depend on the delivery address settings that your company has configured.


When you are done click on Confirm and send request. Your request is then sent to the one in your company that is the attestation manager, who accepts or rejects order requests. If the request gets accepted the order will be sent to the distributor that your company is using.


Follow your order request
As an employee that has placed an order through the store you can go to Your Details in the navigation bar and then click on Your hardware to see your requests and the status of them.

As long as the requests are under pending status you are able to withdraw the request if necessary just by clicking on the three dots and then click on Withdraw request. Some companies have auto approval of requests enabled which means all requests within budget are automatically approved then there is no availability to withdraw requests. Read more about support of an order in this article.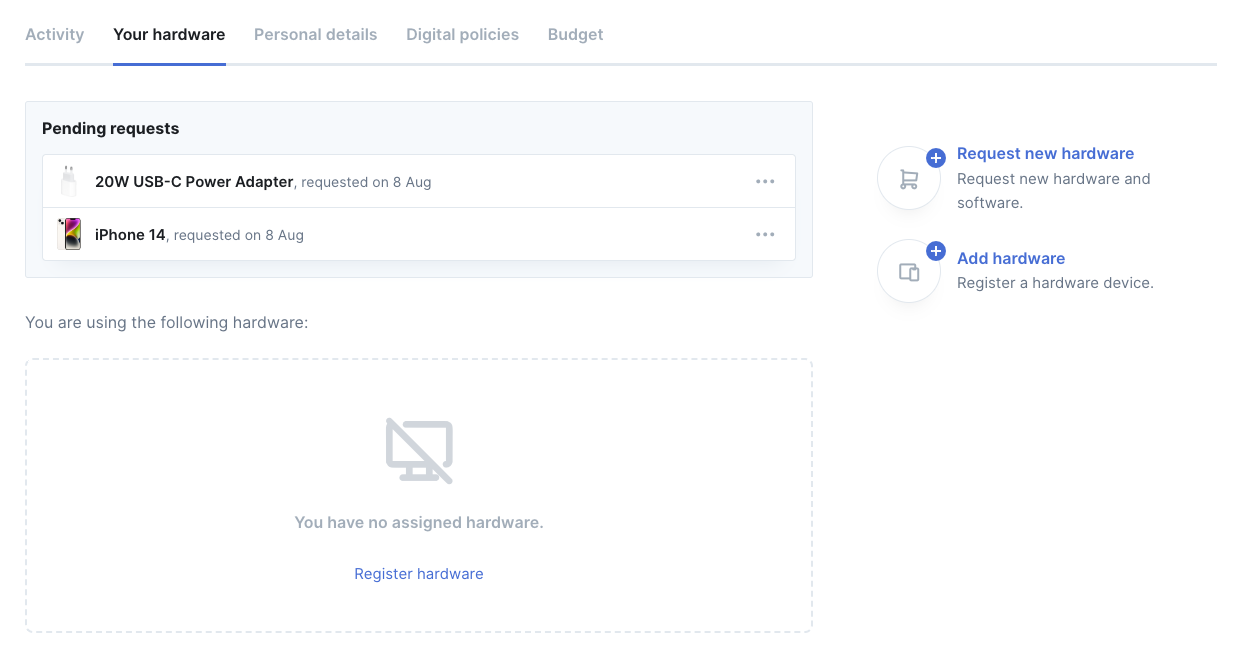 When a request is approved it is sent to the distributor and you are able to see your order status by going to the tab called Activity. If your company has integration enabled with the distributor you are able to track your order by clicking on Track order.