In Velory there are 3 different types of user roles available which determine what you are able to do and see in Velory. On top of these 3 user roles that you can have in an account there is also a possibility for a Service account, here you can read more about service account.
This article includes the following topics:
Employee role
An employee can have access to Velory which helps the employee to manage, keep track of, and purchase the hardware they need to do their job. If the company has the employee experience add-on package available in their billing plan, employees can place their own orders in the Velory store. An employee can see their profile with assigned hardware, follow activities like product requests and placed orders.
The only information that an employee can update themself is their own personal information like email address and phone number.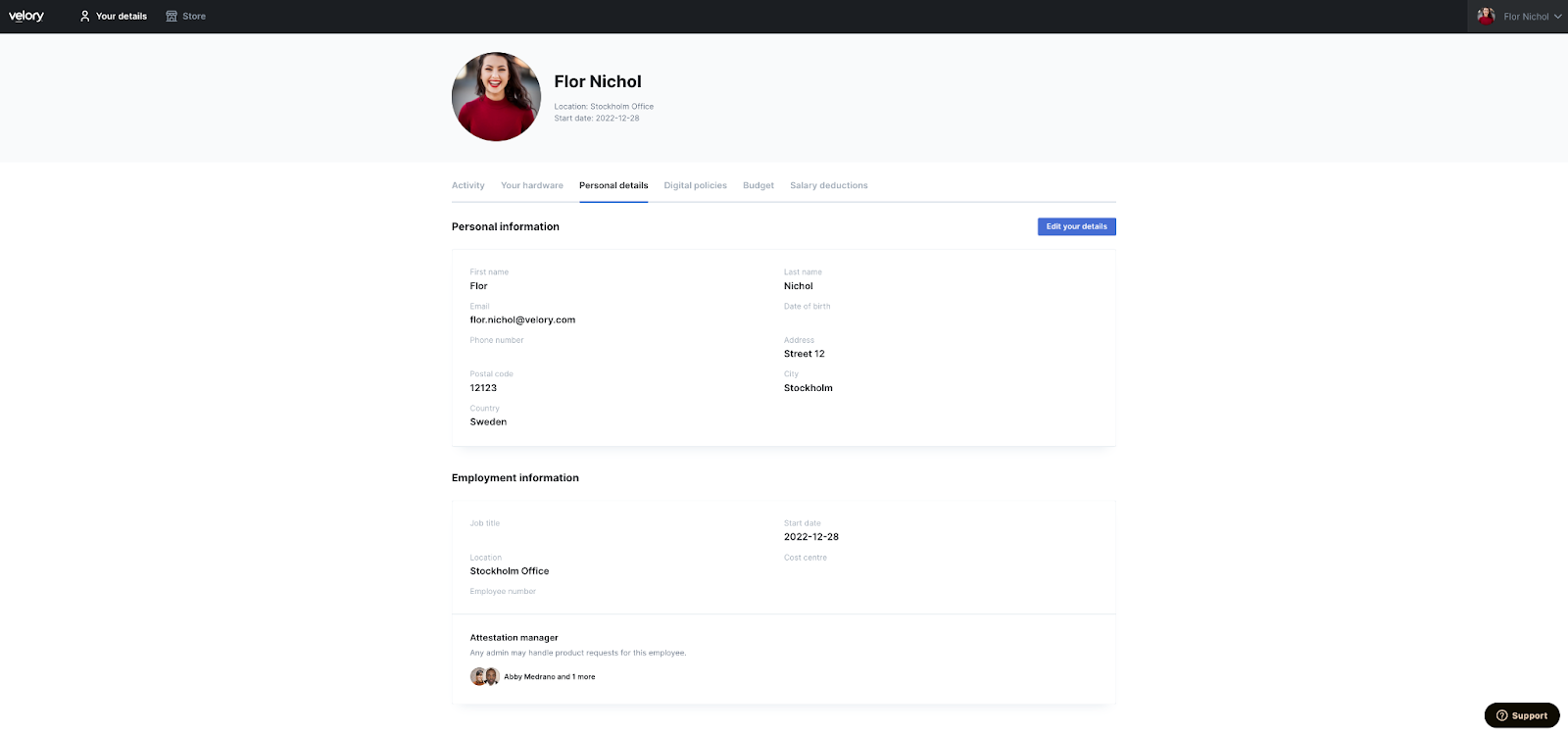 Purchase manager role
As a purchase manager, you can be assigned to oversee an employee, team, or location. When designated as an attestation manager for an employee, team, or location, product requests from the associated employees within that team or location will be forwarded to you for approval. Furthermore, a purchase manager has the ability to make purchases on behalf of the employees within that team or location.
There are no limitations on how many purchase managers can be added to an account but ideally you only have a few purchase managers who are all assigned to a team or location of your account.
The Purchase Manager role is currently available to selected companies for the initial version of this function. If you don't see this role in your company yet, it hasn't been released. For more details, reach out to Velory support.
Admin role
As an admin in Velory you have full control and access to all features in your account. There are no limitations on how many admins can be added to an account but ideally you only have a few admins of your account. As an admin you can for example do the following:
Manage priceplan and add-ons

Manage employees

Manage spaces

Manage hardware and software

Manage budgets

Place orders, which means they also get to approve and deny requests

Manage packages

Manage trade-ins

Handle company settings
Adjust billing plan
An admin has full visibility of all functionality available, remember that the functionality available for a company can differ depending on the price plan your company is on. To see your price plan and update it go to the company setting page, to read more about billing plans you can read this article.
How to update a user role
Only an admin or someone with a service account can modify user roles in Velory. You have various options for changing user roles, depending on whether you're updating a single user or multiple users simultaneously. If you would like to change the role of multiple users please advise this article about update user and device information with CSV-file. To update individual users, locate them in Asset Management under Employees, and access the edit page to modify their role. Alternatively, navigate to User Roles in Company Settings for a broader update, but note that the purchase manager role cannot be adjusted via this method if it's available for your company.
Go to your profile in the navigation bar, click on

Settings

and then

User roles.






Here you will see a list of employees added, click on the three dots for the employee you want to update and choose

Make admin.


The person you change role for will then be admin for your company account. There are no limitations of how many admins a company can have.


If you wish to change back to an employee role you click on the three dots and choose Revoke admin role.